Post by IRmod on Mar 20, 2005 10:34:28 GMT -5
Saturday, April 2nd - All Ages - $5.00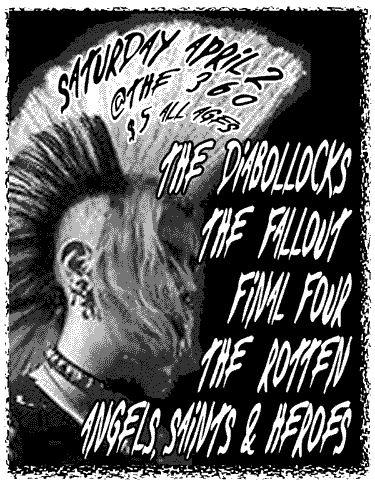 ANGELS, SAINTS AND HEROS
www.asandh.com
"...hit hard and fast, pissed off like a drunken bare-knuckle boxer. Born on the streets, they sing the battle hymns of the revolution with the streetwise passion you've come to expect from these grizzled scene veterans.
Featuring an impressive roster of ex-members, ANGELS SAINTS & HEROES boast the kind of star power only seen thus far in Hollywood movies. With members hailing from such power house acts such as THE HUDSON FALCONS and KING SIZE BRACES, these boys are equipped with the tools to do the job."
THE FALLOUT
www.thefallout.ca
"Great driving melodic punk with a left leaning message. This is one of Toronto's newest and brightest talents, featuring Jeremy the guy behind the Anti-Warped tour shows. The FALLOUT remind me of the CLASS ASSASSINS with a healthy dose of the CLASH and INFA RIOT thrown into the guitar work. As for the vocals they remind me of Frankie Stubbs meets AGENT ORANGE, which translates to an odd mix that is a snotty style that has a hoarse delivery. As for the ideology, the FALLOUT are talking about important things like the erosion of civil liberties in "Quebec City" to scene violence in "Macho Duck". The lyrics seem to be inspired by bands like the ANGELIC UPSTARTS and DOA. The FALLOUT are kind of like something between MARILYN's VITAMINS and the CLASS ASSASSINS however there is loads of group back ups that will have you singing along as if it were the CLASH's "I'm So Bored". This is fuckin' great, especially for a debut release."
FINAL FOUR
www.finalfourpunk.com
"The sound is rough and edgy but still melodic, and this album sounds like a mix of Stiff Little Fingers, Those Unknown, Hudson Falcons, Knucklehead and the Street Dogs all rolled into one. The lyrics are well worth the read, as they espouse a maturity that doesn't come across as jaded, but rather an understanding of what's important about their friendships, music, and politics over the years."
THE ROTTEN
www.therotten.net
"The Rotten have established themselves as K-W's premiere street punk band with a political and social conscience...Much of the album is blistering punk rock, featuring great buzzsawing treble guitar and drums that'll bash you into a concussion. Though having said that, the band doesn't sacrifice melody for speed. There are some great catchy moments -- most notably on "Christ on a Crutch," "Prom Date" and "Blah Blah Blah." The vocals are perfectly gruff and raspy. They remind me a bit of canadian punk legends the Ripcordz."
and The Diabollocks...