Post by IRmod on Jun 8, 2005 11:10:35 GMT -5
New addition to the Insurgence Records family!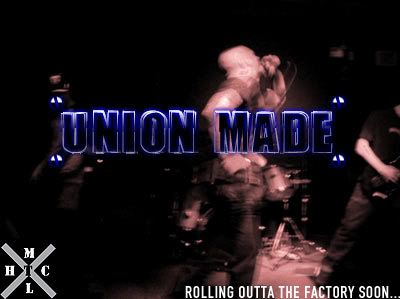 Straight outta Montreal comes the newest addition to the Insurgence family, skinhead hardcore band UNION MADE. Check out the band's bio here and head over to the
www.insurgence.net
downloads section to grab a free mp3 from their upcoming debut full length.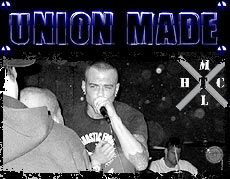 Union Made Bio:
"We're union made - from bone to brains"
If there's one outstanding fixture to Quebec's burgeoning hardcore set, it would have to be the overwhelming presense of skinheads in the scene. This phenomenon might just have something to do with a particular group of musicians and their most recent project, UNION MADE. Born and bred on the streets of Montreal, these individuals and their battle-hardened crew have come a long way.
UNION MADE's Dave (bass), Nic (vocals) and Yan (drums) are veterans from the infamous Montreal skinhead band, STREET TROOPERS. Years of street activity came to a marked decline when the band dissolved but their 'Here To Stay - Here To Fight' philosophy didn't go down with the ship. Out of the ashes came the uncompromising FATE 2 HATE, whose lineup included Yan and Dave. F2H served up their contribution to the world of hardcore and brought it hard. Almost immediately signing to Insurgence, the band issued the now classic 'Iron Fist' release and went on to dominate the Montreal hardcore scene. To demonstrate the lineage of the band and ensure their skinhead roots were kept watered, F2H would often enlist the vocal talents of Nic Trooper in tag-teaming certain tracks. As things went, Nic would soon replace their frontman altogether.
With the reunited lineup, the old militant stand was brought to the fore once again. Keeping true to the band's first love - hardcore, the riffing skills of F2H guitarist Richard were kept on board. But it was clear that the old friends had evolved to another stage. UNION MADE is the genetic imprint of both its forerunners. As much as STREET TROOPERS brought political awareness back into the skinhead scene, UNION MADE is on the warpath to break the monotony of the hardcore scene today. Breaking out of the tired old themes (being stabbed in the back or fighting against an intangible enemy), UNION MADE is real deal mid-tempo hardcore on a mission to inject that old skinhead addage into the fray: 'having a laugh - but most importantly - having a say'.