Post by IRmod on Nov 23, 2004 10:28:21 GMT -5
Italy's premier political streetpunk outfit LOS FASTIDIOS have a new CD entitled "Siempre Contre" out now on Italy's KOB Records and Germany's Mad Butcher Records. Lucky for you, Insurgence Records is now distributing it, as well as some other KOB Records/Los Fastidios releases, in North America…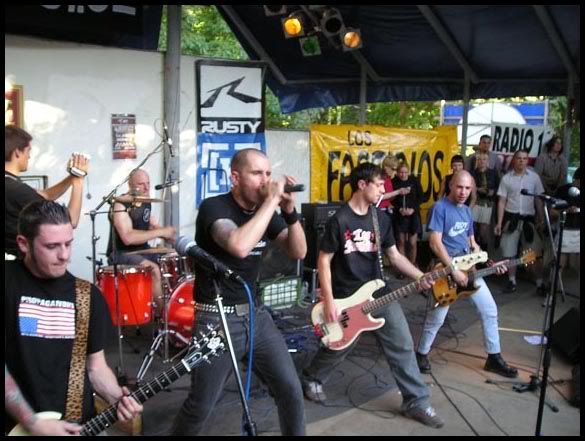 As per their bio: "…The Los Fastidios sound is a powerful melodic street punk which mixes classical 80's British Punk-Oi! sounds with skanking rythms, everything sung in Italian. The lyrics come from the most cheerful street situations to more serious and involved matters which deal with social problems, such as battles against any form of discrimination, for the animal rights, for freedom and against the capitalistic system."
Maximum RocknRoll had this to say about the latest CD, "Siempre Contre":
"Now here's a band that we can all get behind. An Italian Oi! band - explicitely anti-fascist, pro-animal rights, queer-friendly militant activists! Multi-lingual to boot (pun intended) they sing in their native language, with all the lyrics translated into English and French. And they're good. Conjure up, if you will, the lyrical stance of Propagandi, with the tunes of The Business crossed with some rough-edged Ruts. Certainly raising the standards for street-punk across the globe. Who would've thunk it..Ten out of ten" (RK)
If that's not enough to sway you, here's what Razorcake zine had to say about Los Fastidio's "Guardo Avanti" CD :
"Well, hell's bells, my ears have done melted and slid right down the sides of my face! Los Fastidios frenetically crank out a skull-hammering wallop of anti-fascist skinhead street punk that's all-at-once confrontational, politically charged, and energetically raging. The vocals are gruffly spit forth in a slurred and emotional barrage of European dialect (Italian, I think… or maybe French. Damn, I dunno, I only speak Texan!). The brutal in-your-face instrumentation is roaring and wrathful, yet catchy and upbeat as all get-up. The lyrics (printed in three different languages) are a fervent, open call-to-arms for punk unity, spirited beer-fuelled good times with friends (hey, I can certainly relate to that!), animal liberation, and aggressively rousing revolt in the streets. There's also a couple of robustly outspoken rants against half-wit racist knuckleheads, the US government's greed-fed capitalistic policy, and the authoritarian abuse of power by corrupt cops everywhere. All in all, this is one heck of an oi-inspired punk rock release, and it should definitely be loudly blasted throughout the vast, cluttered expanses of America's sprawling suburban wasteland. Fuck authority, hell yeah! "
More info:
www.losfastidios.com
Los Fastidio's Official Website - Italian And English!
www.kobrecords.com
KOB Records - Italian Anti-Fascist/Anti-Racist Punk/Oi/Ska Record Label
www.madbutcher.de
Mad Butcher Records - German Anti-Fascist /Anti-Racist Record Label - A Good Selection Of Los Fastidio MP3s And Video!