Post by marveloushagler on Jun 12, 2007 6:00:07 GMT -5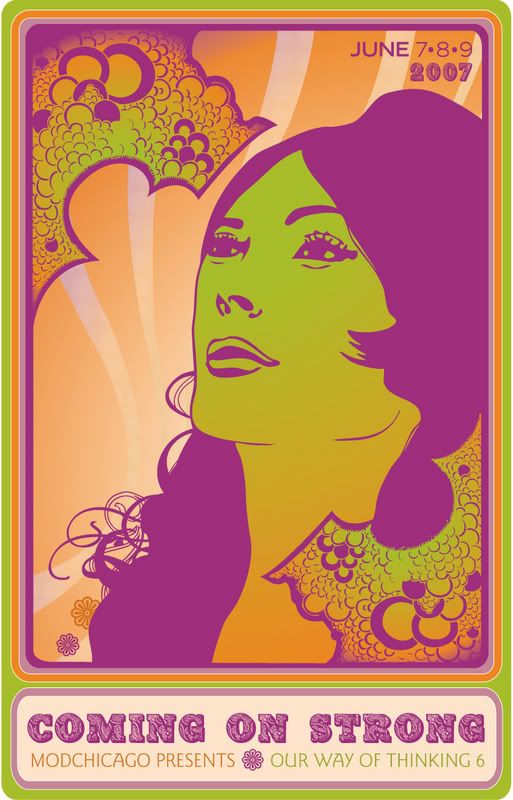 MOD CHICAGO 6 WAS AWESOME
By dj Marvelous Hagler
I had a blast at the Mod Chicago 6 "Our Way of Thinking" weekend (June 7-9, 2007). 3 nights of DJs and dancing to 60's soul, beat, psychaedelic, organ grooves and skinhead reggae.
The event was very well-organized and really professionally done. The Mod Chicago people produced a beautiful full-color poster that should grace walls for years to come. The Thursday night event at the legendary Delilah's was free, and the door price for the Friday and Saturday dances was a reasonable $10. Definitely the best deal in town!
The crowd was what I've come to expect from Chicago- folks who are down for their cause and very friendly at the same time. If you're there to dance and you've put a little effort into the way you look you're gonna meet a lot of cool people. The dance floor was live at all times. People were well-dressed but without the pretentious attitudes often found in NYC and Los Angeles. And gals outnumbered guys- a nice problem to have!
Some of the more memorable DJs of the weekend included Beezy (Rare Soul Millionaires- Chicago), Tony "The Tyger" Sanchez (Satisfaction Club- Los Angeles), Lynne K. (Subway Soul Club- NYC), Money Mena (Sick and Wrong- St. Paul, Mn), Carlo Sesto (Gli Impossibili- Pisa, Italy) and Go Gorostiza (Shuffle Club- Valencia, Spain). People came from all across the Midwest and the country to this event- it was great to see lots of old friends and to meet some new ones. There were roaring after parties, and the Saturday night event featured best-dressed and best-dancer contests.
The soul scene in the U.S. is blowing up. There are a lot of people out there looking for a good time who love to dance and they want to hear authentic sounds, not the computerized crap and mindless boasting of current popular music. Fortunately there are a lot of great sound systems out there making this happen.
I know the East Coast and West Coast would like it to be another way but Mod Chicago has put itself on the map as the premiere annual mod event in the US. If you like great music, great style and a great time Mod Chicago is the ranking ace weekend. I can't wait til next year!
www.myspace.com/modchicago
www.ourwayofthinking.com